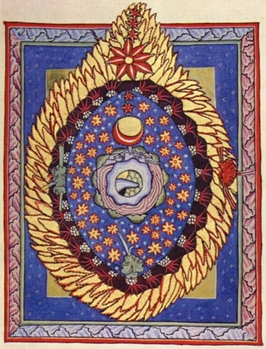 HILDEGARD VON BINGEN: Music to Soothe the Soul
with Cristi Catt, soprano and Shira Kammen, vielle and medieval harp 
An interactive Workshop for curious singers and instrumentalists of all background
Saturday June 6 & Sunday June 7, 2020 on Zoom
Fee: $100 ($65 to audit)  
Auditors attend all sessions except: Duos/Trios on Day 1 and Rehearsals and Coachings on Day 2.
Cristi Catt and Shira Kammen have crafted a weekend experience that allows for exploration and community as we look at how Hildegard shaped her gorgeous melodic phrases. We will dive deep into the contours of her vocal lines and then create our own improvisations and pieces, playing with the elements of her music and medieval modes.  Come ready to relax and move, sing and play and make music together.
Group Warm up
Medieval Modes and Musical Exercises
Music of Hildegard Von Bingen
Hildegard-inspired accompaniments and pieces
Group and Duos/Trios create pieces
Sharing and closing Group Pieces
10-10:30am
10:30-11
11:10-11:50
11:50-12:30
1:00-2:30
2:30-3:00
1-1:30am
1:30-2
2:10-2:50
2:50-3:30
4:00-5:30
5:30-3:00
Warm up
Rehearsals & Coaching
Group Work – Rehearsals, Sharing
10-11am
11:10-12:30
1:00-3:00
Cristi Catt is a singer and improviser with a passion for medieval and oral/folk traditions, known for creating vocal lines over the grooves of world fusion ensembles such as Blue Thread, Hourglass, and Le Bon Vent. Cristi has a long history with the music of Hildegard von Bingen and has recorded her music extensively with Tapestry  Gramophone Magazine writes "high soprano Cristi Catt has captured the spirit of Hildegard von Bingen with extraordinary insight,"  Catt writes for the Huffington Post: "Ordo Virtutum is an allegory of one woman, Anima, who reaches a crossroads in life. She turns to the Virtues – a band of women who can be thought of as some of the earliest female super heroes, each representing a specific power… Together they are an unstoppable force, helping Anima (who represents us all) face her demons.  Catt has performed throughout the U.S. Europe and South America and has recordings with Telarc, Naxos, Erato/Time Warner, MDG/Koch and several indie recordings. She teaches at Berklee College of Music and New England Conservatory. The author of The Kinesthetic Singer: Lessons on Singing from Basketball and Yoga, she presents workshops throughout the US and abroad.
Multi-instrumentalist Shira Kammen has spent much of her life exploring the worlds of early and traditional music of all kinds. A member for many years of the early music Ensembles Alcatraz and Project Ars Nova, she has also worked with Sequentia, Hesperion XX, the Boston Camerata, storyteller/harpist Patrick Ball, singers Anne Azema, Azam Ali, and Joanna Newsom, the Balkan group Kitka, Anonymous IV, the King's Noyse, the Newberry and Folger Consorts, the Oregon, California and San Francisco Shakespeare Festivals, and is the founder of Class V Music, an ensemble dedicated to providing music on river rafting trips. She has worked with students in many different settings, among them teaching summer music workshops in the woods, coaching students of early music in such schools as Yale University, Case Western, the University of Oregon at Eugene, and working at specialized seminars at the Fondazione Cini in Venice, Italy and the Scuola Cantorum Basiliensis in Switzerland. She has played on a number of movie and television soundtracks, when weird medieval instruments are needed.